"Ford has once again provided an excellent platform for us to develop our own vision upon." - Jack Roush.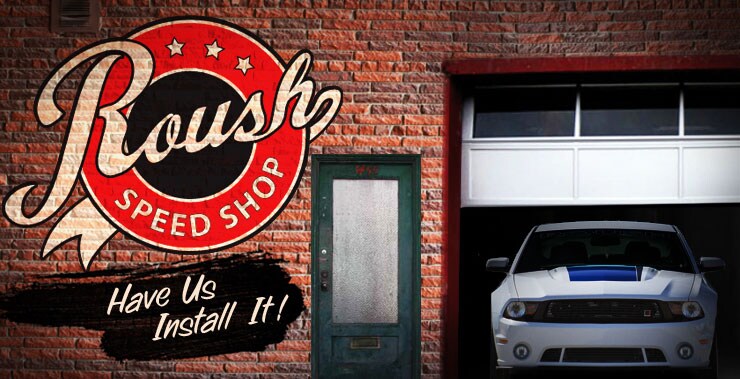 We are Your #1 ROUSH Performance Headquarters on in The Southeast USA!
We are proud to partner with Jack Roush and his team at ROUSH Performance Racing. We are excited to be a part of the most exciting racing performance team. We now have the New 2015 - 2016 Ford Roush Mustangs and the 2016 Ford Roush F-150s. We can get any of the ROUSH Parts for your vehicle and we can install it for you or show you how to install it yourself.  Come by and see why ROUSH is the name everyone trust for performance.
The ALL NEW 2015-2016 ROUSH Stage 3 Mustang
Power by 
670
hp*
ROUSHcharged 5.0L V8 Engine
With a Warranty 
3 year/
36,000 mile
The 2015-2016 ROUSH Stage 3 Mustang Dominates the Competition
There is nothing quite as intense as the raw power of a 5.0L V8 engine. Add ROUSH Performance's new 2015-2016 2.3L TVS supercharger to the mix, and you've got a whole new beast on your hands. The all-new 2015-2016 Stage 3 Mustang is a force to be reckoned with.

The 2015-2016 ROUSH Stage 3 Mustang is the most powerful and well-balanced production Mustang to launch out of the ROUSH Performance garage. For starters, standard features include a ROUSH Quad-Tip exhaust (with the ROUSH Active Exhaust System as an optional add-on), and of course, the fierce new "R7" aerobody, complete with graphics and badging. Twists and turns are no match for the RS3, which comes equipped with a standard single adjustable coilover suspension system, with an optional competition-tuned 3-way adjustable system available.

The 2015-2016 ROUSH Stage 3 is truly the ultimate in American muscle. Jack Roush's vision shines through this perfect combination of raw power and meticulous handling and braking capabilities, providing the driver access to the robust attitude and performance of a racecar, while maintaining a comfortable and uniquely ROUSH driving experience.
The Heart of a Racecar
ROUSH is a name synonymous with high-horsepower, fiercely-competitive Ford vehicles. The ROUSH Mustang is powered by the culmination of decades of racing experience and ROUSH heritage, and the new 2015-2016 ROUSH Stage 3 Mustang continues that tradition. With a ROUSHcharged Coyote 5.0 under the hood, the 2015-2016 ROUSH Stage 3 has more horsepower-per-liter than any other OE American muscle car, while maintaining an unrivaled level of driveability.

You can hear the Stage 3's power pulsing through an innovative new ROUSH Active Performance exhaust system. This game-changing system gives full control over the volume and tone coming from a Quad-Tip Stainless steel ROUSH exhaust. Select modes ranging from the subtle "touring" mode, dynamic "sport" mode, and wide-open "track" mode. With the "custom" mode you can program your own dynamic profiles with virtually infinite sound possibilities, right from your mobile device.

"The RS3's performance stems from a balanced combination of elements. True performance has many dimensions..." - Jack Roush Jr.
Track-Bred Handling
The new 2015-2016 Stage 3 Mustang embodies the legacy of ROUSH Performance's racing heritage. The experience gained through ROUSH racing programs is integrated into every ROUSH Mustang's chassis, making the 2015-2016 Stage 3 the best-handling ROUSH Mustang yet. Taking full advantage of the 2015-2016 Mustang's all-new independent rear suspension and pairing it with a standard height adjustable coilover suspension makes for the ultimate balance of performance and streetability. The optional three-way adjustable TrakPak coilover suspension allows for adjustment of height, compression, and rebound, allowing you full control over your Stage 3 in the corners. 
Our Promise
At ROUSH Performance, it's not enough to deliver heart-pounding performance, unparalleled refinement, and race-inspired styling. We take a step further and back-up the 2015-2016 ROUSH Stage 3 Mustang with an industry-leading 3-year, 36,000 mile limited warranty so you know that we're along for the ride.

Our vehicles are rigorously engineered and tested to prevent issues down the road, but should they occur, you can rest assured in knowing that we're here to help.
Exterior
ROUSH has gone to great lengths to enhance the appearance and functionality of the ROUSH Stage 3 Mustang to provide true race-inspired body, graphics, wheels, and grille work.

ROUSH exterior upgrades are precision engineered with CAD/CAM design and manufactured with the same processes that the big automotive manufacturers use for OE-quality appearance, longevity, and fit.
About The ROUSH Company
It was Jack Roush's lifelong passion for hot rods, racing, and Mustangs that was the driving force in the 1995 creation of ROUSH Performance Products, a company offering an extensive line of aftermarket performance parts, vehicles and crate engines.

Bridging the gap between road and track, ROUSH Performance is in a unique position to seamlessly blend Roush's legendary racing successes with the formidable OEM engineering and manufacturing skills of ROUSH Industries and their nearly 2000 employees.

ROUSH Performance is the first specialty-vehicle company to combine race-proven technologies with advanced automotive engineering. The result, a unique mix of street car and race car...Is a ROUSH car. Or more specifically, a ROUSH Mustang or F-150 pickup with styling, performance, and handling characteristics derived from the racetrack and modified for street legal usage.

The vehicles and components produced by ROUSH Performance are imprinted with Jack Roush's vision, passion for performance, and commitment to excellence. He personally approves the design, engineering, fit, finish and overall performance of each package, ensuring that his personal standards are met prior to production and product release. Many of these products are designed by the same engineering group that has helped Roush Racing become the winningest Ford racing team in history.

The ROUSHcharger, a supercharger system, could be viewed as a microcosm of the entire ROUSH Performance line. Due to the engineering and quality of the product, it is the industry's only aftermarket supercharger that continues the factory drivetrain warranty on the car, and the only one to carry a full 3 year/36,000 mile warranty (see web site for details). In fact, when installed on a stock Ford Mustang on Spike TV's "Horsepower TV" program, the hosts basically claimed that in more than 1000 television programs they have shot using thousands of products, "this is the best engineered product, the easiest install, and the most thoroughly written instruction manual we have ever used on the air."
As technology and design continue to evolve, so does the ROUSH Performance line of vehicles, parts and crate engine offerings. ROUSH Performance Products is committed to leveraging the latest in automotive and motorsports technologies to continually provide our customers the ultimate driving experience - the perfect combination of race car and road car.

Mustang Performance and Much More - Who They Are
ROUSH Performance is the automotive performance product division of Roush Industries. ROUSH Performance's mission is to deliver to the customer quality high performance automotive products and services, including completely assembled pre-titled vehicles, aftermarket performance parts, performance crate engines, performance part installation, hot rod restoration, and custom graphics.
Official ROUSH vehicles are assembled at the ROUSH Performance's Plymouth Township, Michigan facility, adding our performance upgrades that you can buy through a select number of Ford dealers, as well as aftermarket parts and accessories that can be installed on a vehicle. Our current ROUSH vehicle line-up includes an array of configurations for the 5.0L Ford Mustang, adding styling, power, and handling over the base vehicle, depending on the specific package.
Our parts catalog includes items such as superchargers, exhausts, cold air intakes, body kits, front grilles, shifters, pedals, suspension kits, brakes, and much more. While the majority of items that we offer are for the Ford Mustang, we also have a number of performance parts for the Ford Focus, Superduty, and F-150 as well..
 At ROUSH, it isn't enough to just provide a product that meets a certain  
 performance number. We take that additional (and huge) step of 
 designing packages that work well as a whole system. That's why we
 offer industry leading warranties on parts such as our
2011-2016 Mustang supercharger kit
(part #421388) which comes with a 3 year / 36,000 mile limited parts warranty.
The larger ROUSH company has a wide set of capabilities ranging from engineering, manufacturing, design, fabrication, racing, and much more. This rich collection of skills and resources goes into the services we offer and the products we sell.
Here at ROUSH, we have a passion for Ford performance, as do many of you. That's why it's not enough to just offer you products and services. We also want to help you live the performance automotive lifestyle. That's why we started our own official ROUSH club, the
ROUSH Road Crew
, where you can join in on exclusive events around the country. We also have an extensive collection of articles about our racing involvements, tips/tricks, history, and more. We are continually updating the content on our site, so please stay tuned for more exciting updates soon.